LinkedIn Workshop: Professionalizing Your Social Media Presence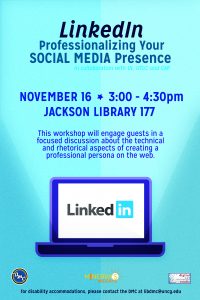 Posted on: Nov 08, 2016
Please join us for our last installment of "The Creativity and Experimental Design Workshop Series" for the Fall 2016 semester, conducted by The Digital ACT Studio & Digital Media Commons:

"LinkedIn: Professionalizing Your Social Media Presence" — November 16th, 3:00pm — Lib 177
This workshop will engage participants in a focused discussion about optimizing the professional appearance of your LinkedIn profile. Dr. Lindsay Sabatino and Armondo Collins will lead participants in a conversation about the technical and rhetorical aspects of creating a professional persona on the web. DMC and DACTS staff will be on hand to assist users with troubleshooting issues.
This event is open to UNCG students, faculty, and staff. Space is limited so please sign up in advance: https://goo.gl/forms/VhYdJTtWG1ZnIWMb2
If you have any questions, please contact Lindsay Sabatino (lasabati@uncg.edu) or Armondo Collins (arcolli2@uncg.edu).